Blood Glucose Meter (Easymax) Starter Kit, Glucometer Set EasyMax Blood Glucose Meter starter kit contains:- Blood Glucose Meter mmol & Pouch x 1 Set- Lancing Device x 1 Pc- Sterilize Lancet 30G x 10 Pc-&nbsp..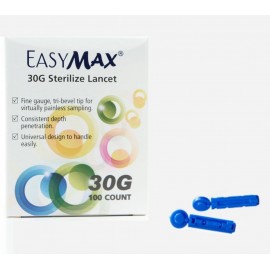 Glucometer Lancets, Sterile, Glucose Meter (Easymax), 100 Pcs, Per BoxLancets (sterile):- 30G (almost painless)- fine gauge, tri bevel tip for virtually painless sampling- consistent depth penetration- &nb..
Blood Glucose Meter Test Strips (Easymax Glucometer) EasyMax Individual Foil Pack Blood Glucose Test Strip 50pc/boxKey Specifications/Special Features:EasyMax Foil Single pack blood glucose Test Strips. The new foil strip pack will help more members to monitor glucose at highest convenience. EasyMax Indi..
Showing 1 to 3 of 3 (1 Pages)